About us
In June 07 we start our new life here in Dom Rep.
Our Plan to work in a place where others make HOLIDAY and also to do the best we can that exactly these people and hopefully you have a wonderful and unforgettable SUNSHINE HOLIDAY.

On this Site we will give you a little impression about us and our business and if you have questions or like a special one...contact us by e-mail

WE PROMISE TO DO THE BEST FOR GRANTED!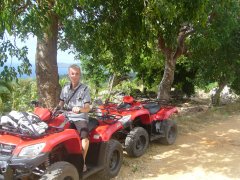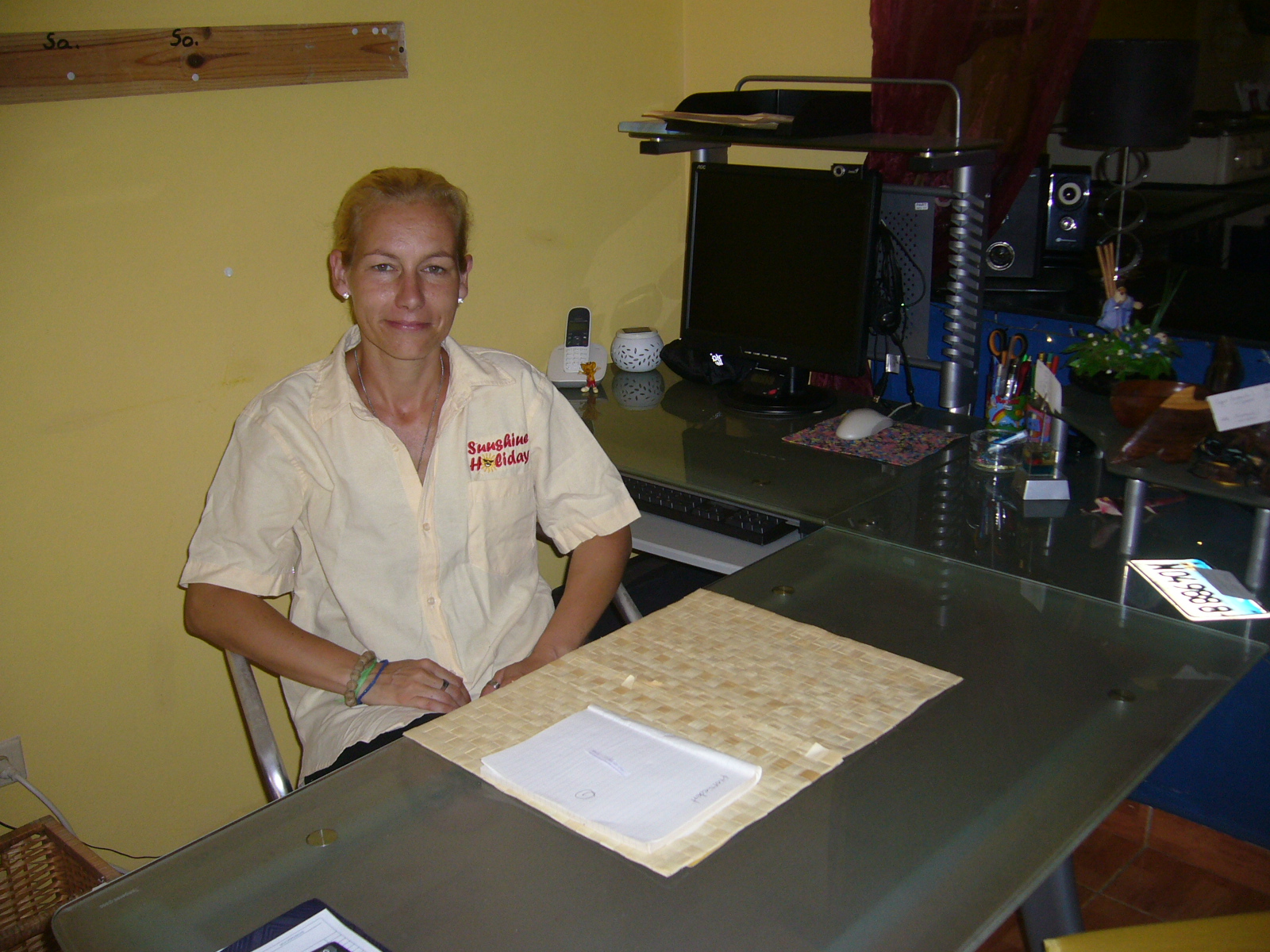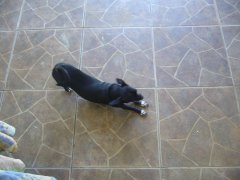 BOSS MARCEL CUSTOMER CARE DIANA "WATCHDOG" PEPI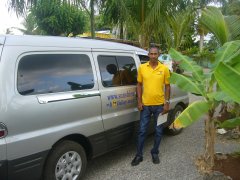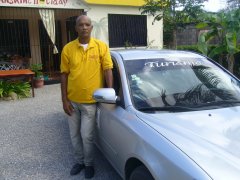 TAXI DRIVER ORLANDO TAXI DRIVER FREDDY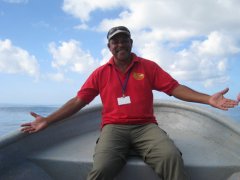 TAXI DRIVER TONY TOUR GUIDE ANGELO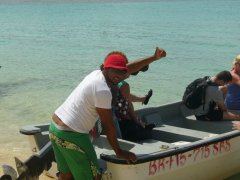 CAPITAIN SAMUEL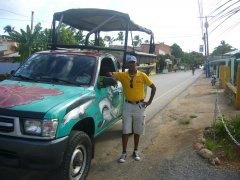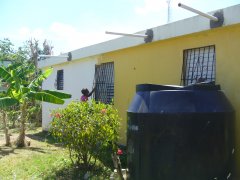 JEEP DRIVER FRANKLIN CARETAKER MANUEL
Accompanied and supported by:

- Cable 1 / Janus TV - My new life XXL 06/2007 -
www.kabel1.de - "Ready for the island" Program from Sunday, 24.6.2007

- Radio HR3 - 06/2011 - http://www.hr-online.de/website/radio/hr3/index.jsp?rubrik=4418

- HolidayCheck

- Tourist Guide: Marco Polo (with thanks to the author)
OUR DIARY
29.5.2007
Finally we're going to leave. Plane starts at 10:40AM and with the fact that the Kabel1 Camera team (which's producing a documentary "my new life XXL") is awaiting us at 7AM for the today's photo shoot its going to be definitely a long long day. Even we were waiting this day for so long…it feels strange to close the door at home for a last time.
3.6.2007
"Sadly" that the camera crew left us now…we can start now to organize our first bits & pieces in our new life. So much fun we had with the crew, so much far the `doing each scene tons of times & making untrue stories up…` kept us away from actually sorting the real stuff.
29.6.2007
So after searching as hell we really bought, about a week ago, a car in San Francisco d. M. (3h drive away). Our today's hope…that we can welcome the arrival of our container in Santo Domingo.. In a bit frightened mood of what else we have to expect at the port and in which condition's our furniture.
Parallel to that we keep an open eye on houses…cos we'll definitely getting a huge space problem with all our stuff here.
The cable 1 docu got shown on the 24.6.2007, 8:15PM. Since that…we're overload by e-mails and people watching out for us with the question of how we doing?!
13.7.2007
HOUSE FOUNDED…and the job of renting the corners Restaurant `Rubis` from 7AM - 12AM for Breakfast is running quiet well and even when not really what I'm used to…at least we both can do something. Unfortunately till my paperwork for the company (Tourism, Permissions…) is sorted…I can't realize my dream of a Tour office. But hey…everything is in work…
29.7.2007
Unbelievable but 2 days ago we welcomed our container here in Las Galeras. Don't even ask what we gone through…you wouldn't believe anyway. Fact…we learned that the word manana means nothing more than "I don't know, some when, maybe". At least 4 times in Santo Domingo may not sounded loads, but with the fact that we worked together with one of the biggest and popular shipping company? It was 3 times too much we had to show up there for employer's stupidity and silly things. And that we got him now, thanks mum and dad's incredible help in Germany with contacting the bosses of each party. By the way…thanks to everybody helping us.
Diana moved to a beautiful little apartment near the beach and I will stay a while longer in the house.
21.8.2007
Somehow the heat and sun is not molesting. Even when we unloaded the container a month ago, or while staying the whole morning in the Kitchen…just nothing. May already used to? Or because we calm already the German stress into Caribbean relaxed!!!
1.9.2007
Diana starts to manage her spider phobic a bit better. To be honest…here we talk about really spiders. Up to diameter 20cm makes even me feeling a bit uncomfortable.
In a week Mum and Dad are coming to visit the first time. Exciting!!!!
16.9.2007
The both liked it so much!!! "Could may become the place in pension" they said!!!! Happy.
Within a week Diana and I are going to be neighbors again. As well I got one of the Apartments. Look really forward to, cos as beautiful the huge garden around the house is as much work it cost to keep him this way.
22.10.2007
Got my completely Company documents 3 days ago. With the right and permission of my Sunshine-Holiday it's done a huge step to my dream.
31.12.2007

Las Galeras's Eve - at the end of the world - the end of the road - even funny.
But let rise at 30 degrees the missile - - - has been what .....

23.02.2008

Now we have flung our transitional job.
It was a good time to in the circumstances here in the country to see further and to make contacts.
It was always in the long run no state in a bar to workers, are in the cleanliness and cooperation is a foreign word.

Now we finally have the time to take care of care of our missing documents.


02.04.2008

Now it is once again back to Germany - 1 month vacation in the "old country" - We'll see what has changed and what the "friends" are still there.


29.04.2008

After a more or less break in the home is finally back in her new home.
Diana has been exploring in my absence several rental properties for our own office and one is in the immediate choice.


01.05.2008

Finally here is a little faster than you think.
Lease signed - Small property with office in the center (just before the supermarket).
Looks after calming lot of work - and at 35 degrees.


31.05.2008

After a month of hard work we finally opened our own small business.
The last papers are nearing completion.


31.12.2008

We are proud to look into our circle of friends won here in our factory.
Slowly but surely it is in the right direction.


12.03.2009

Oh my God - two small dogs - will be for me - the sweet - thank you Diana


13.04.2009

Is it because it the 13th
or is only because of our skin color - through a review by staff of the tourist authorities in Santo Domingo, we have to close temporarily - the papers are not ready. "

A consultation with our lawyer and the Tourismobehörde however made it all OK
is - well, typical Dominican - a hand not knowing what the other one.


20.06.2009

Now we are talking directly to the competent authority in Santo Domingo before - what about our papers - no one knows of nothing - our current law is now back to his job and admits "I'm overwhelmed" - and pays us back our deposit.


21.06.2009

Miraculously, we learn a German lawyer in Santo Domingo to know who gives us through his expert knowledge and understanding of our situation important tips and addresses.

In this way, many, many thanks to Mr. H. and our mom - who is also always there in every situation for us.

07.09.2009

More and more information to get to us - Official documents are issued for many years no longer on the island for the Tourismobehörde Samana and we wonder - how the others work here - well, OK
- Bribery is surely on the agenda - but without insurance and then working with tourists - but better fight ........

02.02.2010

Joined forces with the big company Turinter - an existing for 25 years, companies that specialized in all the rice sector.

08.07.2010

From now on, a night guard at our office.

The first permanent employees.


31.12.2010

Another year around.
This year we have met many new people and new experiences with various alleged "friends" made.
A year in which we were able to strengthen our workforce by taxi drivers, tour guides and boat drivers.

Many new ideas are developed and implemented in part.
So we have expanded our tour program even further and improved to meet every need.

Diana has now achieved with your own small restaurant in the same house.

02.02.2011

Fixed setting of a travel agency employee DD, which is responsible only for flights, hotels, transfers and events.
She is from Santo Domingo and should have the appropriate training.
Na gaze times.


25.03.2011

Hardly "right" here and gone again - the staff has just received your papers.

After long talks about your work ethic, and the associated high compensation they had left the company again.


19.04.2011




Here also

change laws

.

All companies

named

S.A.

- even

we

-

have

a new

tax number and a

name change to

SRL

get

- again

Santo Domingo and

bureaucracy

.

I believe

that

we

are the

only company that

really

has

all the papers

clean.

Well

yes

you

can

connect

-

German passport

has expired

and

the end of May

- that is

also

the

same

again

-





29.05.2011




Anniversary -

now

4 years in

the Dominican Republic

-

and

it goes

in the right direction

.




Even

in the

"off season"

we have

plenty to do

.

The long road

that has paid off

slowly

.



24.11.2011


We are

the organizers of the

trips

for the

Fa.

company

Contest

2011th




The winners

go

on

various excursions

us

.





24.12.2011




Christmas

-

now

it shows

again

that's

the end of the

road

here

-




I sit

on

Christmas Eve

n

ing in one

restaurant

and

can

choose between

pizza

for

8, - Euro

or

menu

for 40

, - Euro for

the

me nothing

tastes

....

So

cook

from

home

and see

what

a dvd

.





31.12.2011




New Year's Eve

-

asleep

23.00

clock

-

01.30

clock

and

wake up again

-

hear anything

-

not bad

---
25.01.2012

Start of the whale season.
This year we have. In collaboration with a supplier from Samana two boats with the license for whale watching in Samana

But the weather makes us all a spanner in the works - a lot of rain, wind and rough seas.
We and others have problems with the weather.


15.02.2012

So much for the whale season.
The hunt in the bay of Samana to the whales takes a form that after my deeming no longer be justified.

As of now we do not offer whale-watching more.

3 beaches on our tour (which we launched as the first provider to life) to see the tourists from the beach Fronton the whales undisturbed.
So this tour is.


21.03.2012

Always nice - a repeat offender -

More and more tourists come back and one of your first way leads to us.

The long work pays off.


18.05.2012

Another year older.
This time, a very nice day and the conclusion as a dinner as a gift of Diana and her boyfriend.
Thank you.


29.05.2012

Dominican Republic five years and no back - Fits -


30.05.2012

The new tours are available.
Took a long time but now we have several new trips we offer.
The website is also revised.
Well it was a bit less tourists in May - was finally time for it.
We'll see when we try to copy the first again - as with the tour of the island and the 3 beaches tour.


01.06.2012

And one idea leads to the next.

From now on we will start operations every month.
Raffles, discounts, events.

And every Saturday there are char-grilled bratwurst.

Cooperation with
Turinter
is completed,
causing more problems
than benefits
are
formed.
The
never-ending
bureaucracy.

01.09.2012

Now the French are out of the hotel (Grand Paradise Beach Resort), our largest customer, get out.
Contract between hotel and Lookea has expired.
The French were only here for a week and the local shops brought no revenue.

Now coming back for more German and Canadian.

04.09.2012

Help - it was a low season.
Normally, the months of May and September are quiet.
This year, between the months.


30.09.2012

Thanks to SonnenklarTV.
That was once a nice start to the season.
The Travel Channel makes great deals on the hotel here and the tourists coming and coming and coming ...

20.12.2012

First
Christmas party.
Guests are our
taxi driver
, tour
guide,
boat
driver
but
also
police
and
Turismo
authority
.
A beautiful day
.


31.12.2012

Another year comes to an end .

On the whole, quite a pretty good year , We'll see what the

New Year brings .


20.03.2013

The whale season comes to an end .

Since this year we went just off the coast of Las Galeras out .

Unfortunately the whales from year to year more and more by the large boats are from

sold the Bay of Samana .


31.05.2013

The month of the otherwise quiet part -

again all very different - Sunny Side TV - and a lot of tourist `s


18.08.2013

The never-ending bureaucracy.

Once again, spent three days in Santo Domingo and renewed several papers.

This time it has once worked quite easily .

Nice to be back in Las Galeras .


11.13.2013

Tourists there - which there is not .

" Flight sch .. sch .. Hotel , village sch .. - what do you offer us now "

Which one can do nothing right.


21.12.2013

Second Christmas party
.
This time,
even
with live music.
Atmosphere at its best
.
Guests are our
taxi driver
, tour
guide,
boat
driver
but
also
police
and
Turismo
authority
.
A beautiful day
.

31.12.2013

Another year over.
Where has the time gone ?


01.01.2014

Good start to the new year.

Visit of the family - but that can only be good.


28.02.2014

Completed conversion on our site .
New roof , entrance u.s.w.

Ne lot of work but well worth it.


15.03.2014

Last Whale Tour at Sunshine Holiday !

From now on we will no longer support this
hunting
To be continued ...